Crunchy kale crisps with cashew dip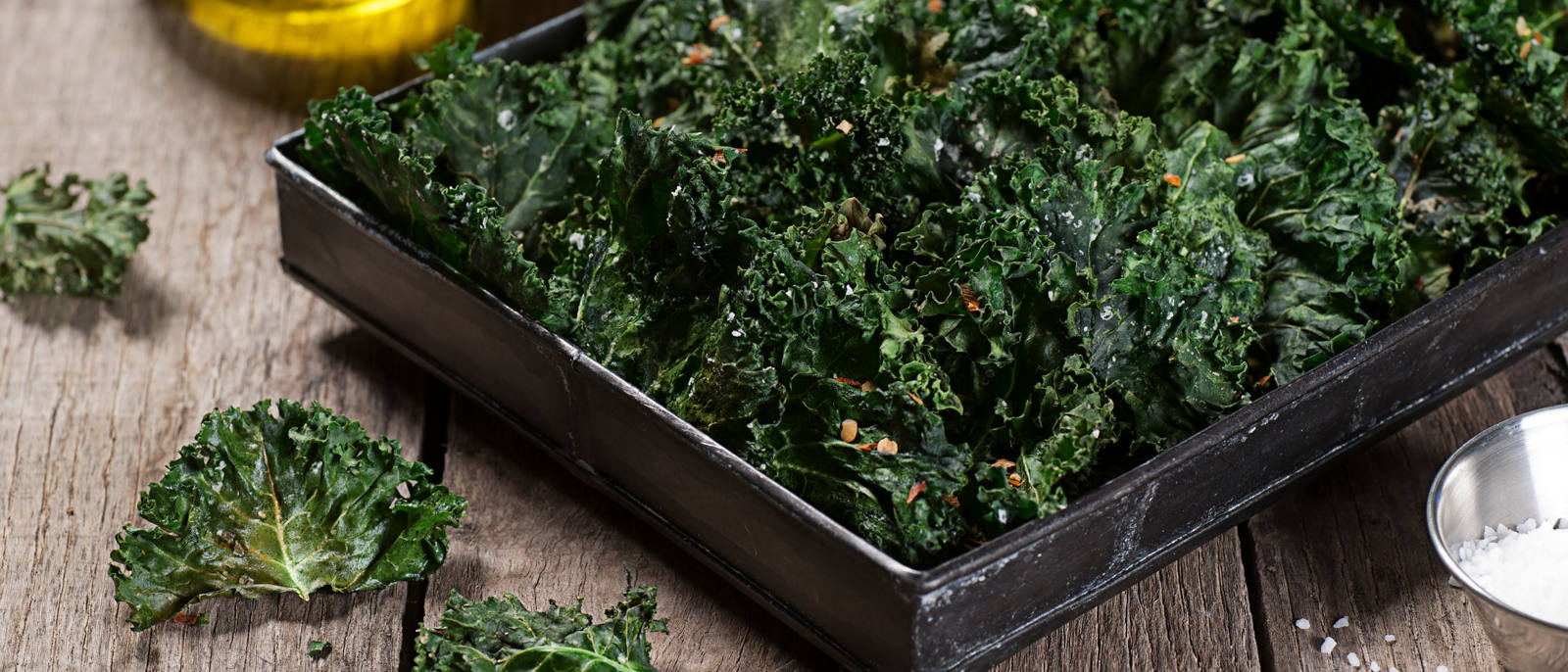 There are other forms of crisps besides potato crisps – vegetables like kale can also be used. Not only are they much healthier and very simple to make yourself, the dark green crisps have lots of other benefits too.
Kale is a good source of vitamin C

Crisps made of fresh kale with their curly edges and dark green colour almost look like a piece of art. And they're not only eye-catching, they're good for the body too. This is because kale is one of the vegetables with the highest concentration of vitamin C, making the regional winter vegetable one of the best natural sources of vitamin C during the cold winter months. If you want to enjoy the crisps during the hot days of summer too, you can preserve kale safely by freezing it.
Bitter substances stimulate digestion

There are other reasons why kale is one of the healthiest vegetables we can eat. The bitter substances contained in this cabbage cultivar stimulate digestion and help with conditions like flatulence, constipation, stomach burn and chronic intestinal diseases. Bitter substances also curb our appetite and help prevent ravenous hunger pangs. In addition, kale contains vital nutrients like iron, vegetable protein and antioxidants.

Ingredients for crunchy crisps

250g kale
2 tbsp. rapeseed oil
1/2 tsp. salt
Pepper, paprika, cumin, curry powder

Method

Pre-heat the oven to 150°C.
Separate the kale leaves from the thick stalk and tear them into crisp-size pieces. Wash and thoroughly dry the leaves in a salad spinner.
Place in a bowl with the rapeseed oil and spices and mix well.
Place the leaves on an oven tray lined with baking paper, not too close together. Bake for around 25 minutes.
Leave the crisps to cool and add salt if required.

Cashew dip

A creamy dip goes best with the crunchy, spicy crisps. Cashew nuts can be used to make a vegan dip in no time.

Ingredients

160g roasted cashew nuts
2 tsp. mustard
200g soya milk
2 tbsp. oats
1/2 lemon, juice and zest
1 garlic clove
100ml rapeseed oil

How to make the dip

It couldn't be easier: blend all the ingredients in a mixer and season with salt and pepper. And that's it – the vegan dip is finished.

Premiums for 2024 at a glance
Well looked after with CSS