Cauliflower bowl: a nutritious recipe for autumn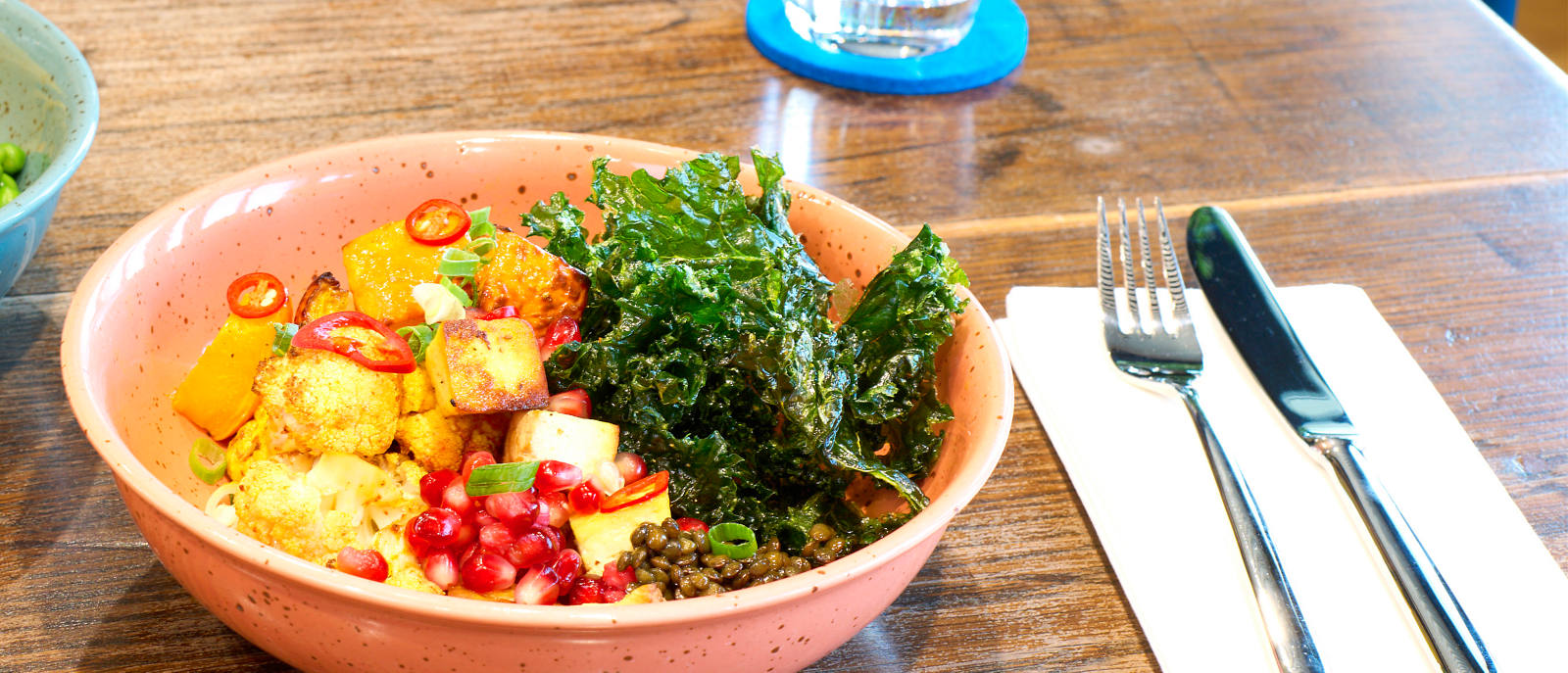 This autumnal cauliflower bowl will give your immune system a boost. It contains seasonal vegetables that will prepare the body for the upcoming cooler season. Not only is it healthy, but this spicy recipe is also suitable for complete beginners.
Simple ingredients, big effect

This nutrient-rich cauliflower bowl mirrors the colours of autumn, is quick to make and ready to serve in no time. All you have to do is prepare the individual ingredients and then arrange them in a bowl. The lentils provide a protein-rich basis, the cauliflower is a source of vitamins and makes you feel full longer, while the pumpkin adds a typical taste of autumn.
Healthy cauliflower

The cruciferous vegetable is easily digestible and an excellent source of vitamin C, containing around 69mg per 100g.

What you need to make a cauliflower bowl

200g Beluga lentils
320g smoked tofu
240g cauliflower
200g Hokkaido pumpkin
100g kale
1 pomegranate
1 chilli pepper
1 spring onion
Tandoori spice
olive oil
rapeseed oil
black pepper
salt

Preparing the bowl step by step

Unlike a conventional salad, the individual components aren't mixed together, but prepared and arranged separately in a bowl.

Beluga lentils

Bring 500ml of salted water to the boil and cook the Beluga lentils for around 10 minutes. Drain and rinse with cold water.

Smoked tofu

Dice tofu into 2x2cm pieces, fry in a pan in a little oil or heat up in the oven and serve warm.

Tandoori cauliflower

Chop the cauliflower into florets. Marinate in rapeseed oil seasoned with a pinch of salt and 1 tablespoon Tandoori spice. Roast in oven at 220°C for around 10 minutes.

Hokkaido pumpkin

Cut Hokkaido pumpkin into roughly 2x2cm chunks. Marinate in rapeseed oil seasoned with a pinch of salt and pepper. Roast in oven at 220°C for around 15 minutes.

Kale

Wash the kale and pat dry.
Then marinate in olive oil with a pinch of salt and lay it out on a baking tray lined with baking paper.
Bake in the oven on the fan setting at 130°C for around 15-20 minutes.
Leave to cool a bit.

Pomegranate seeds

Cut the pomegranate in half through the middle, then tap the skin with a wooden spoon to release the seeds.

Serving the bowl

Arrange all the ingredients as you like in a bowl. Finish off by finely slicing the chilli pepper (adjust quantity to taste) and spring onion, and sprinkling them over the bowl as a topping.

Another brassica recipe: crunchy vegetable crisps

Do you like all kinds of cruciferous vegetables? And are you looking for inspiration for your next party? Our tip: crunchy crisps made from kale.

Premiums for 2024 at a glance
Well looked after with CSS